Doctors & Staff
Meet the experienced and friendly doctors and staff who make Orinda Optometry Group a proud provider of vision care products and services in Orinda.
---
Dr. Kristine Eng, O.D.
Dr. Kristine M. Eng is third generation optometrist and one of seven optometrist in her family. She graduated from the UC Berkeley School of Optometry in 1998, but she has been working in the Orinda office since she was in junior high school. She went to school in Orinda, and then went on to complete her undergraduate degree at UC Davis. Dr Eng is TPA and Glaucoma Certified, which allows her to treat eye diseases with oral and topical medications as well as glaucoma.
Dr. Eng is an active member of the American Optometric Association, and a member of the American Public Health Association-Vision Care Section, Fellow of the American Academy of Optometry, and Charter member of Women of Vision. She is Past-President of the Bay Area Optometric Council, Past-President of the Alameda-Contra Costa Counties Optometric Society and Membership Chair for the California Optometric Association. She has also served as a member of the American Optometric Association Membership Committee, Ambassador for the American Academy of Optometry, and Mentorship Coordinator for Women of Vision. She has served on the UC Berkeley School of Optometry Strategic Planning Committee and Alumni Board and is currently serving as Vice President.
In 2016 she was named Alameda Contra Counties Optometrist of the year. In 2005 she was named the American Optometric Association's Young Optometrist of the year and in 2006 she was nationally recognized as one of Vision Monday's 50 Most Influential Women in Optometry.
Her focus includes dry eyes, multifocal and specialty contact lenses, laser surgery and cataract surgery co-management, as well as children's vision.
Dr. Eng lives in Orinda with her husband Michael T. Smith, their son, Pierson and daughter, Anarose. She has been active at Sleepy Hollow Elementary School as a volunteer for many years as currently a Teacher Appreciation liaison.
In her free time, she enjoys golfing, skiing, traveling, and exploring the Bay Area with her family.
---
Dr. Kelly Shintani, O.D.
Dr. Shintani has practiced optometry in the Bay Area for the past twenty years and focuses specifically on primary care and ocular disease. In addition to the top notch individualized care she offers her patients, her strong commitment to community service and professional leadership is a superb addition to the Orinda Optometry Group and the local community.
In addition to being on the Clinical Faculty at the U.C. Berkeley School of Optometry, she was active as Past President for the Alameda Contra Costa Counties Optometric Society, the largest in the state. She has enjoyed coordinating the vision screenings at the annual Sakura Kai Health Fair in El Cerrito and the Tri-Valley Expand Your Horizons conference in San Ramon.
While in Optometry school, Dr. Shintani participated in many vision screenings through the Volunteer Optometric Services for Humanity and Help the World See organizations in developing countries such as China, Belize, Mexico, and Peru. Dr. Shintani also enjoyed serving on both the Scholarship and Civil Rights committees for the Berkeley Chapter of the Japanese American Citizens League and held positions on the California Vision Foundation committee (California Optometric Association's charitable arm) and the Advisory Committee for the President's Council of the California Optometric Association. In the past, she was a member of the Berkeley Kiwanis as well as the Berkeley Breakfast Club.
For her leadership, service, and dedication to the professional community, she was named California's Young Optometrist of the Year (2004) and Alameda Contra Costa Counties Optometric Society's Young Optometrist of the Year (2003).
---
Dr. Weylin Eng, O.D. – Retired
Please join our staff, patients and community in congratulating Dr. Eng on his well-earned retirement. Recently, Dr. Eng and his wife Rose celebrated this milestone with a 3 week trip to Asia. Dr. Eng has also been spending more time at his farm in Williams, CA.
Dr. Weylin Eng is married to Roselyn , and they have four daughters, Kristine, Tiffany, Shannon, and Aimee. All four daughters are graduates of Miramonte High School in Orinda and are all active in the community as well. Dr. Eng's father, Raymond Ng, began this practice 75 years ago. Dr. Eng's hobbies include clinical research with aviation medicine, mounted patrol, farming and collecting Asian artifacts.
For his outstanding service to the profession, Dr. Eng was named Optometrist of the Year by the Alameda Contra Costa County Optometric Society in 2006. Although Dr. Eng recently retired from practicing optometry, he stays active in his many other interests.
---
Ronnie Garcia, ABOC
Certified Optician – Ronnie has been a certified Optician for over 20 years. He has experience in assisting patients with their optical needs in ordering spectacles prescriptions, eye wear dispensing, adjustment, repairs, optical lab work and training first time contact lens wearers. He was an optician with Orinda Optometric Vision Center with Dr. Benjamin Gaynor and Dr. Jeffrey Lewis for 15 years and recently joined the team at Orinda Optometry Group.
In his spare time he enjoys walking around Lake Merritt, listening to jazz music and watching football games.
---
Becky Elfont
Becky is currently the Billing Coordinator and clinical liaison at Orinda Optometry Group. She is a graduate from the University of Nevada, Reno with a Bachelor's of Science in Community Health Science with a concentration in Public Health. She also is an alum for her sorority, Delta Gamma. Her prior work experience includes gymnastics coaching, working at a restaurant, and being a physical therapist intern before graduating. She currently is going for her MBA in Healthcare Management.
In her free time, she is a health enthusiast, loves spending time with her dog, catching up on the latest TV shows, finding new recipes to make, and has a fear of birds!
---
Danielle Emick
Danielle is currently our Scheduling Coordinator at Orinda Optometry Group. She has worked in various customer-focused roles for over 20 years and she now brings customer service, technical and administrative skills, and excellent attention to detail to Orinda Optometry Group. She looks forward to providing efficient and effective care to all our patients!
In her free time, she enjoys riding her electric scooter, cooking, and baking, watching Netflix – especially crime dramas and psychological thrillers – as well as reading, video games, board games, and puzzles.
---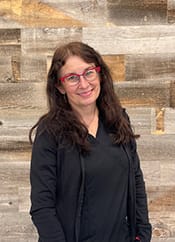 Michelle Loffelbein
Michelle has been an optician in the Lamorinda area since 2009. She loves glasses and all things optical! She enjoys helping patients find the perfect pair of glasses for their new look. She is an artist, painter, quilter, and jewelry maker! She loves to travel and take photos – her favorite places are the beach or the redwoods!